Read Time:
1 Minute, 52 Second
Kingslee James Daley (born 1 December 1983), better known by the stage name Akala,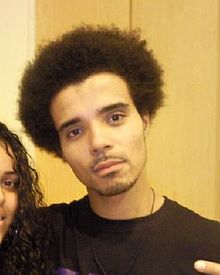 is an English rapper and poet. Originally from Kentish Town, London, his older sister is rapper/vocalist Ms. Dynamite. In 2006, he was voted the Best Hip Hop Act at the MOBO Awards.
Born in 1983 to a Scottish mother and Jamaican father, Daley grew up in Kentish Town, London.  He chose the stagename Akala because it is a Buddhist term for "Immovable", and started releasing music in 2003 from his own independent music label, Illa State Records. He released his first mixtape, entitled The War Mixtape, in 2004. In 2006 he released his first album – It's Not a Rumour. This proved to be his breakthrough album, containing the single "Shakespeare" – a reference to his self-proclaimed title "The Black Shakespeare" – which made the BBC Radio 1 playlist. His work was recognised with the MOBO Award for Best Hip Hop Act. Additionally in 2006, a mixtape entitled A Little Darker was released under the name "Illa State", featuring Akala and his sister Ms. Dynamite, as well as cameo appearances by many other artists. Akala appeared for a live session on BBC Radio 1Xtra where he was challenged to come up with a rap containing as many Shakespeare play titles as he could manage. Akala wrote and performed a minute-long rap containing 27 different Shakespeare play titles in under half an hour. He later recorded these lyrics in the studio and turned it into the single "Comedy Tragedy History". In 2007 Akala followed up his breakthrough album with his Freedom Lasso album, containing the "Comedy Tragedy History" track. 2008 saw The War Mixtape Vol. 2 released along with an EP of acoustic remixes.
Their British Hit Singles, years, and top positions are:
Welcome to England – 2003
War – 2004
Roll Wid Us – 2005 – 72
Bullshit – 2005
The Edge – 2006
Dat Boy Akala – 2006
Shakespeare – 2006
Doin' Nuffin / Hold Your Head Up – 2006
Bit By Bit – 2007
Freedom Lasso – 2007
Where I'm From – 2007
Comedy Tragedy History – 2008
XXL – 2010
Yours and My Children – 2010
Find No Enemy – 2011
Lose Myself – 2013
Mr. Fire in the Booth – 2015
Giants – 2016
Info from Wikipedia
(Visited 97 times, 1 visits today)