ABC are an English new wave band that first came to prominence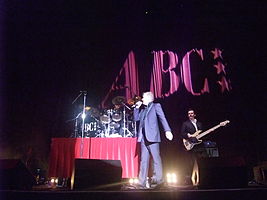 in the early 1980s. Their 1982 debut album, The Lexicon of Love, was a UK number one and they achieved ten UK and five US Top 40 hit singles between 1981 and 1990. The band, now essentially a vehicle for singer Martin Fry, continue to tour and released their ninth studio album, The Lexicon of Love II, in 2016.
ABC has its roots in the band Vice Versa, a Sheffield band formed in 1977 by synthesiser-players Stephen Singleton and Mark White. Their debut gig was as the support to Wire at the Outlook club in Sheffield. They founded their own label, Neutron Records, releasing the EP Music 4. Martin Fry, who wrote the fanzine Modern Drugs, interviewed Vice Versa and shortly afterwards they asked him to join as synthesizer player. Fry accepted and by late 1980 the band had evolved into ABC, with Fry becoming lead vocalist. The last performance as Vice Versa was at the Futurama 2 Festival in Leeds in September 1980, from there on it was as ABC; with Singleton playing saxophone and White playing guitars and keyboards. In the new year they were joined by Mark Lickley on bass and David Robinson on drums.
Their British Hit Singles, years, and top positions are are:
Tears are not enough – 1981 – 19
Poison arrow – 1982 – 6
The look of love – 1982 – 4
All of my heart – 1982 – 5
That was then but this is now – 1983 – 18
SOS – 1984 – 39
How to be a millionaire – 1985 – 49
Be near me – 1985 – 26
Vanity kills – 1985 – 70
Ocean blue – 1986 – 51
When smokey sings – 1987 – 11
The night you murdered love – 1987 – 31
King without a crown – 1987 – 44
One better world – 1989 – 32
The real thing – 1989 – 68
The look of love (Remix) – 1990 – 68
Love conquers all – 1991 – 47
Say it – 1992 – 42
Strange things – 1997 – 57
Info from Wikipedia
(Visited 19 times, 1 visits today)